Staff photograph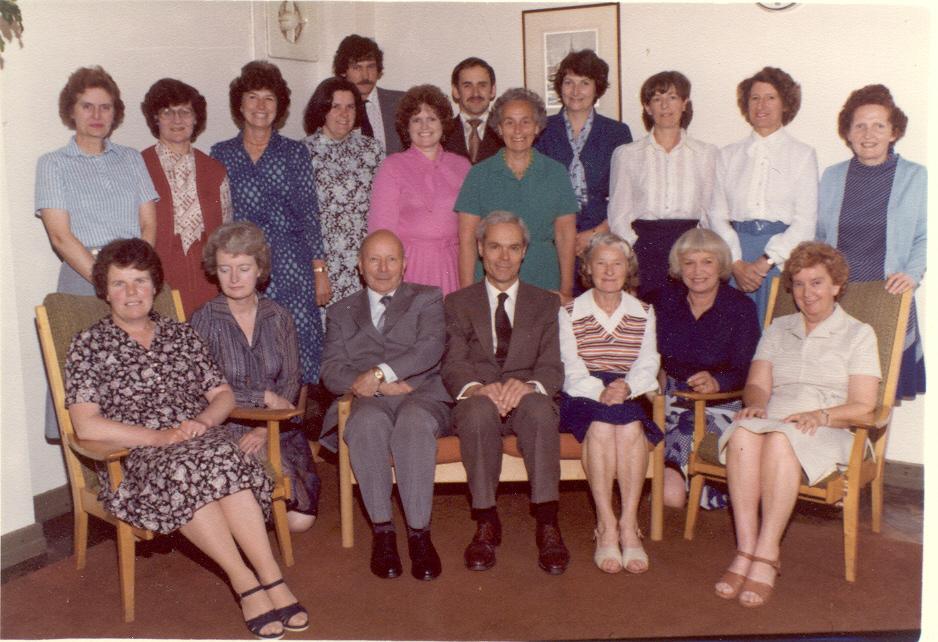 This photograph was probably taken to mark the retirement of Mrs. Parker, Mr. Jones and Mrs. Browning

Back Row (L>R)
Mr. J. Mulhern, Mr. M. McDermott, Mrs. A. Anderson
Standing (L>R)
?. Mrs. J. Field, Mrs. S. Major, Miss M. Mee, Mrs. A. Fitch, Mrs. B. Browning, Mrs. C. Demmar, ?, Mrs. A. Notholt
Sitting (L>R)
Mrs. E. Owsley, ?, Mr. K. Jones, Mr. P. Ettling, Mrs. J. Parker, ?, Mrs. C. Dove
Not identified:
Mrs E. Lockyer, Mrs. J. Matthews, Mrs. Shaw, Mrs. J. Craig
The Gazette (date currently unknown) carried the following report of the three staff members' retirement:
Saying goodbye after 17 years
Most people are only too pleased when their school days end, but in Ickenham, there's an exception to this rule.
Mrs. Babs Browning, secretary to Breakspear Junior School in Ickenham, is retiring at the end of this term after 17 years with the school.
"I will be 65 this August," she said "so I am not allowed to stay on. If I could I would stay at Breakspear until I was 75."
DEPUTY
Two of her school colleagues will also be retiring at the end of term. Mr. Ken Jones, senior master, has been with the school for 32 years, and a teacher all his adult life.
Miss Joan Parker, deputy head, is leaving Breakspear after 17 years with the school.
She is friends with another deputy head, Miss Olga Hole - who is retiring from Mellow Lane School, Hayes, at the end of this term. They were at teacher training college together.
The pair will move to a cottage in Brixham, Devon, where Miss Parker has many friends and relatives.