Mr Ward
1937 - 1961 Breakspear's First Head,
Mr. F. W. Ward, 1898-1991
The following biography of Mr. Ward, the school's first Headteacher, has been written by his daughter, Mrs. Rosemary Russell, with historical photographs provided by his grandson, Mr. Brian Ward. The school is very grateful to them both for enabling us to provide this account of the Head who first shaped the school as the fine school it continues to be.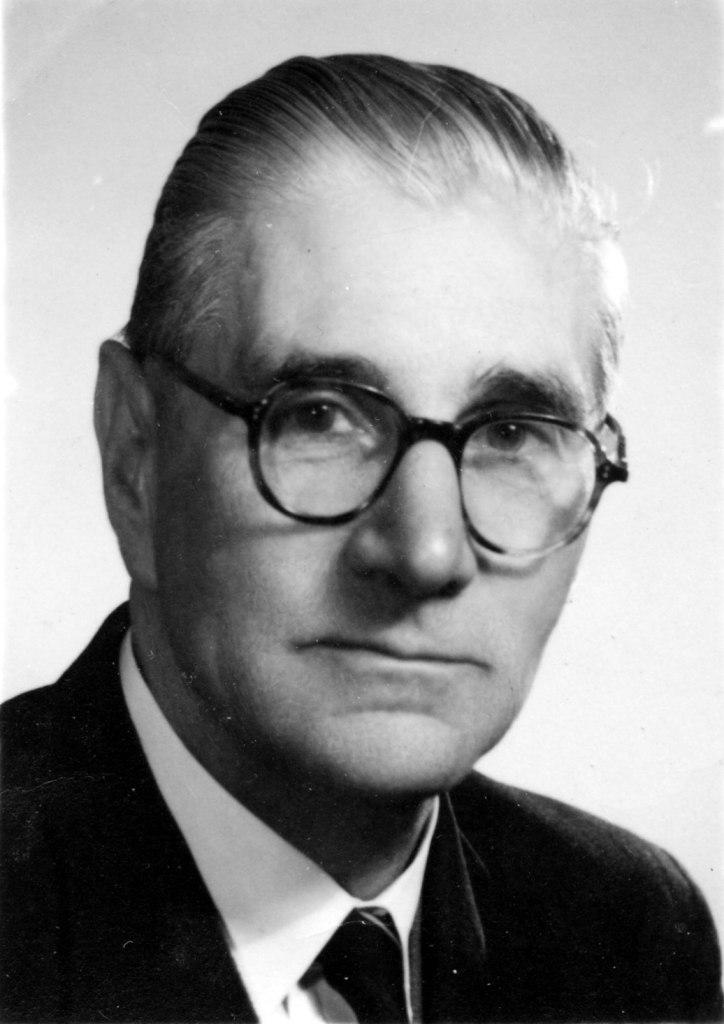 Photograph taken around 1960
Frederick William Ward, later known to friends and family as 'Jim', was born in Cannock , Staffordshire in 1898. He showed an interest in teaching at an early stage in his life. He left Queen Mary's Grammar School in Walsall at the age of seventeen, to become a 'monitor' and pupil teacher at the boys' school in Hednesford, with classes of 60 or more children. One challenge he had to cope with as a teacher, was the stammer that he had grown up with, (caused, he thought by being forced to use his right hand when he was naturally left-handed.)
At the age of eighteen he decided his country needed him to fight, so in March 1917 he left teaching to enlist in the Royal Artillery, soon finding himself in France . He survived Passchendaele, Ypres and other battles on the Somme , particularly remembering Villers- Bretonneux and the 1918 artillery conflicts. He attributed a slight deafness in later life to the great guns that he worked with; in this war these were pulled by horses which he had to care for. To the end of his long life he recalled the battles in great detail, and the men who fought with him. He was always conscious of his good fortune in surviving when his companions fell. Like so many veterans he felt more anger at the military leadership that had needlessly squandered lives, than at the Germans (or 'Jerry' as he called them.)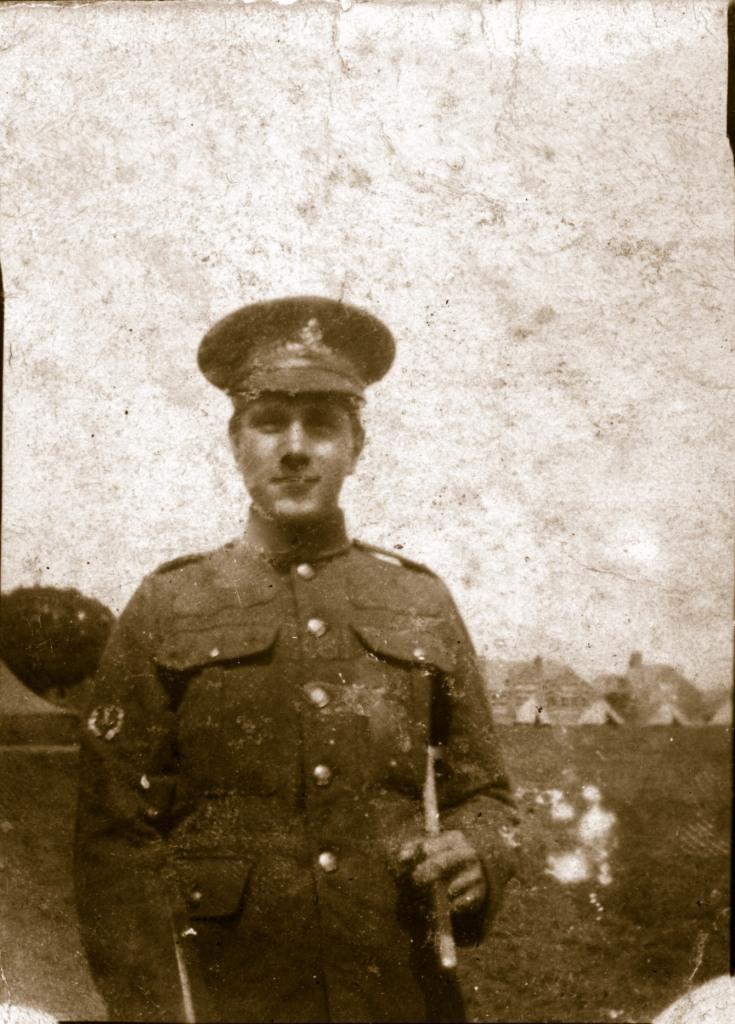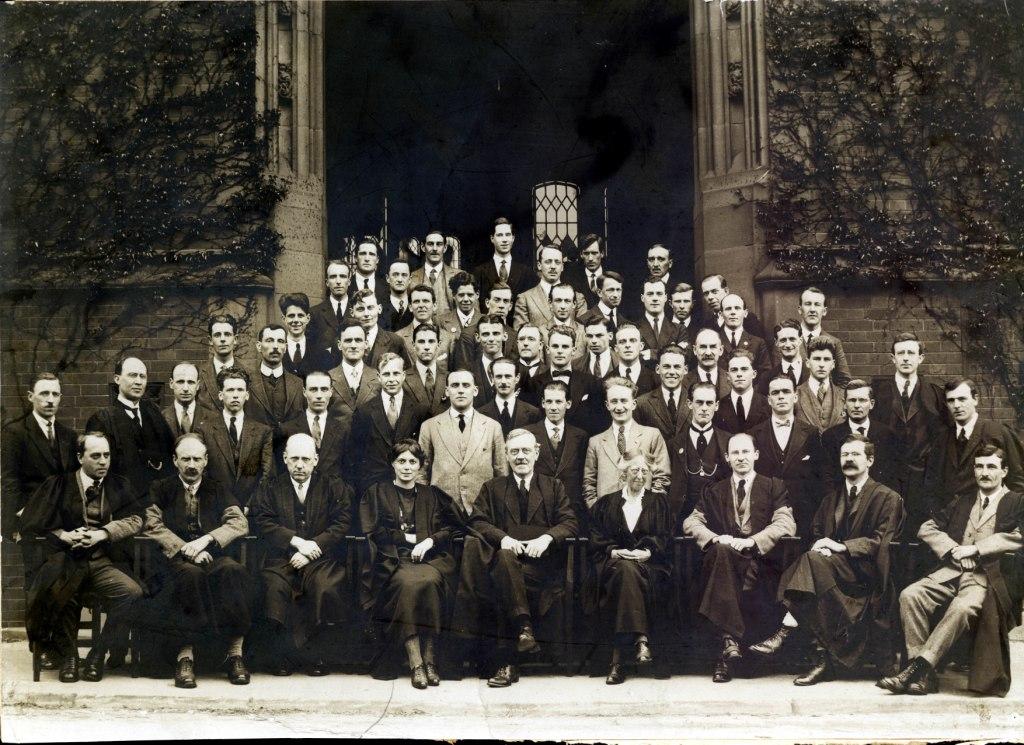 F.W.Ward, Sheffield University- [3rd row from front, 4 from L]
Demobbed soldiers were offered the chance of a university education, and after a brief spell as assistant teacher, Jim Ward entered Sheffield University , studying to obtain a teacher's training certificate. He distinguished himself as an athlete and ran for the University, particularly in the quarter mile and cross-country. He was also a fine gymnast and in the County Dance team. After two more years at Teacher Training college he took his first certificated job teaching P.E. at Cheadle Hulme near Manchester . In 1924 he married Joy Flood, a music teacher, and the couple moved to Derby , and later to Alperton, near London .
In 1937 Breakspear school opened in its new building, (costing just over £17,000), and Jim Ward was appointed as its first headmaster. On the opening day there were only 200 pupils but numbers increased, more than doubling in the first ten years, and growing steadily until he left in 1961. As the accommodation was designed for fewer than four hundred children the school was soon 'so crowded we look like bursting our skin and spilling out into huts and annexes' as he put it in 1949.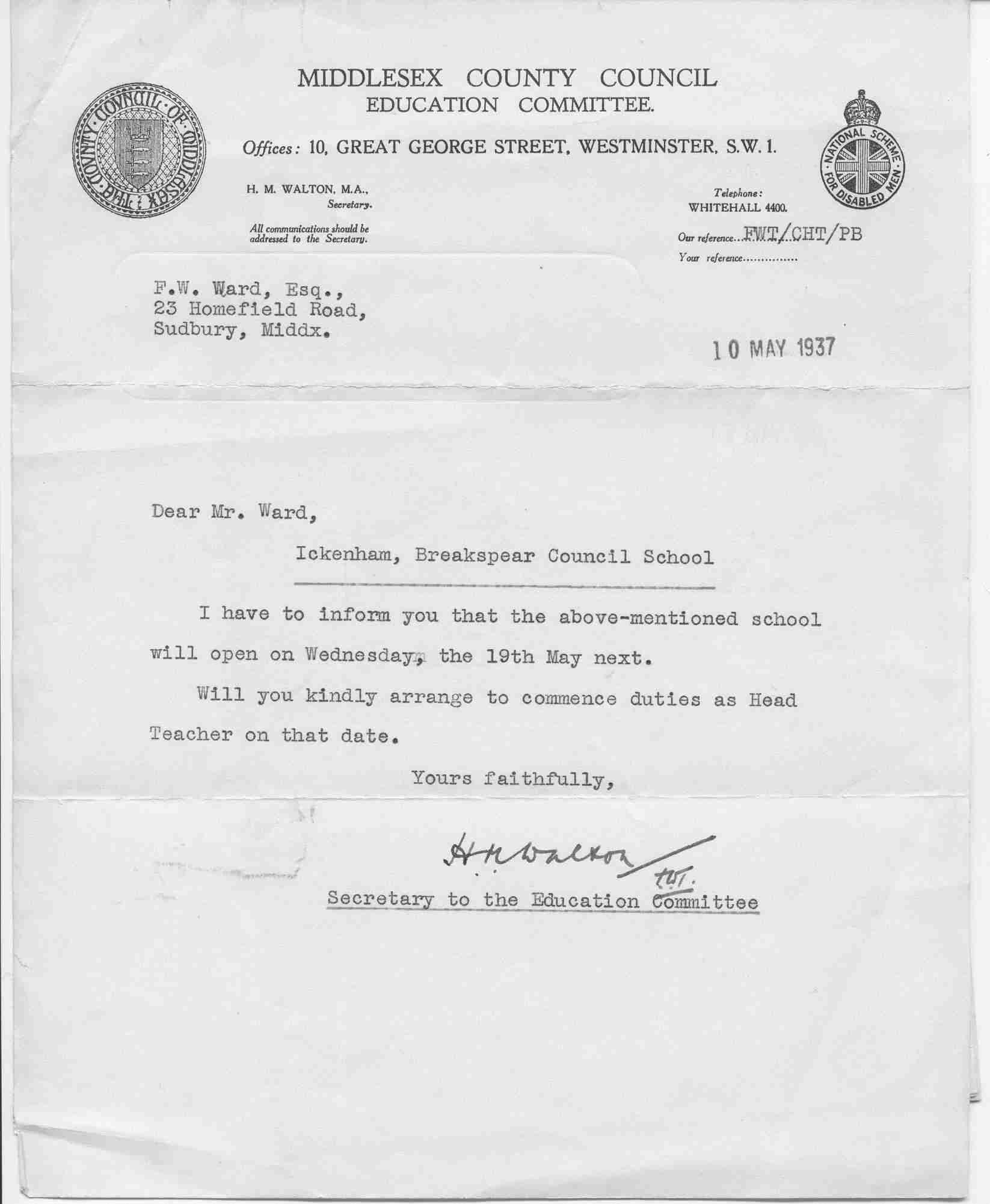 As Headteacher, Mr. Ward was supported by an excellent teaching staff. He would need them, for the war years were a testing and uncertain time, 'very dark days when it seemed as if nothing would ever come right again.' Air raids were frequent since Northolt airfield was nearby, and classes were interrupted for many hours a day as pupils and teachers retreated to the 'safety' of the shelters on the school playing field. These were large drain pipes covered in earth and sandbags, with slatted wooden seats and a duckboard floor, where lessons continued in the darkness and damp. Jim Ward's leadership during the war was unflinching despite memories of the traumas that he had experienced as a young man in the trenches where he had once been buried alive in the aftermath of an exploding shell.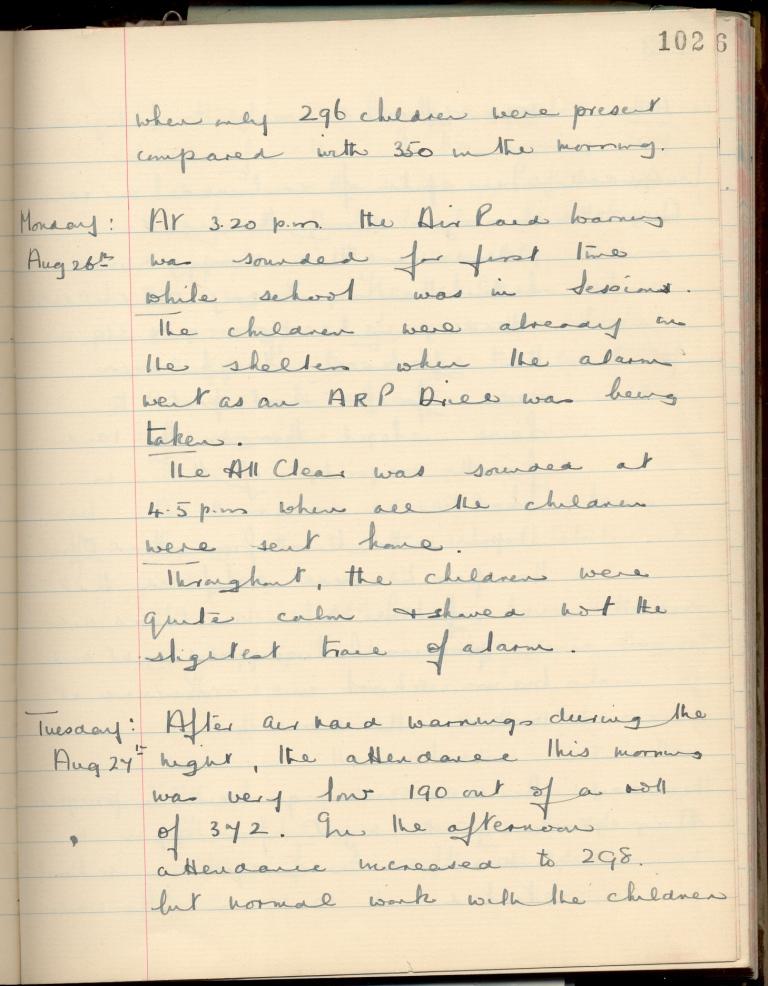 Extract from Mr. Ward's entry in the Log Book for 26 August 1940
The lack of petrol during the war meant that his familiar black Austin 10 was put on blocks and every day he cycled the five miles from home to the school and back again.
He was always ready to face challenges. One was provided in winter by the older boys in the school who would prepare a very long ice slide across the boys' playground, and then ask 'sir' to demonstrate his skills on it!
From his first year at Breakspear, Mr. Ward made sure that he shared his love of literature with the children. A drama group started immediately, putting on The Slippers of Cinderella and Michael, a play adapted from Tolstoy which he produced. In assembly and in the classroom he liked to read to the pupils from some of his favourite poets, including Wordsworth, Kipling, Alfred Noyes and Walter De La Mare. In private he enjoyed writing his own verse.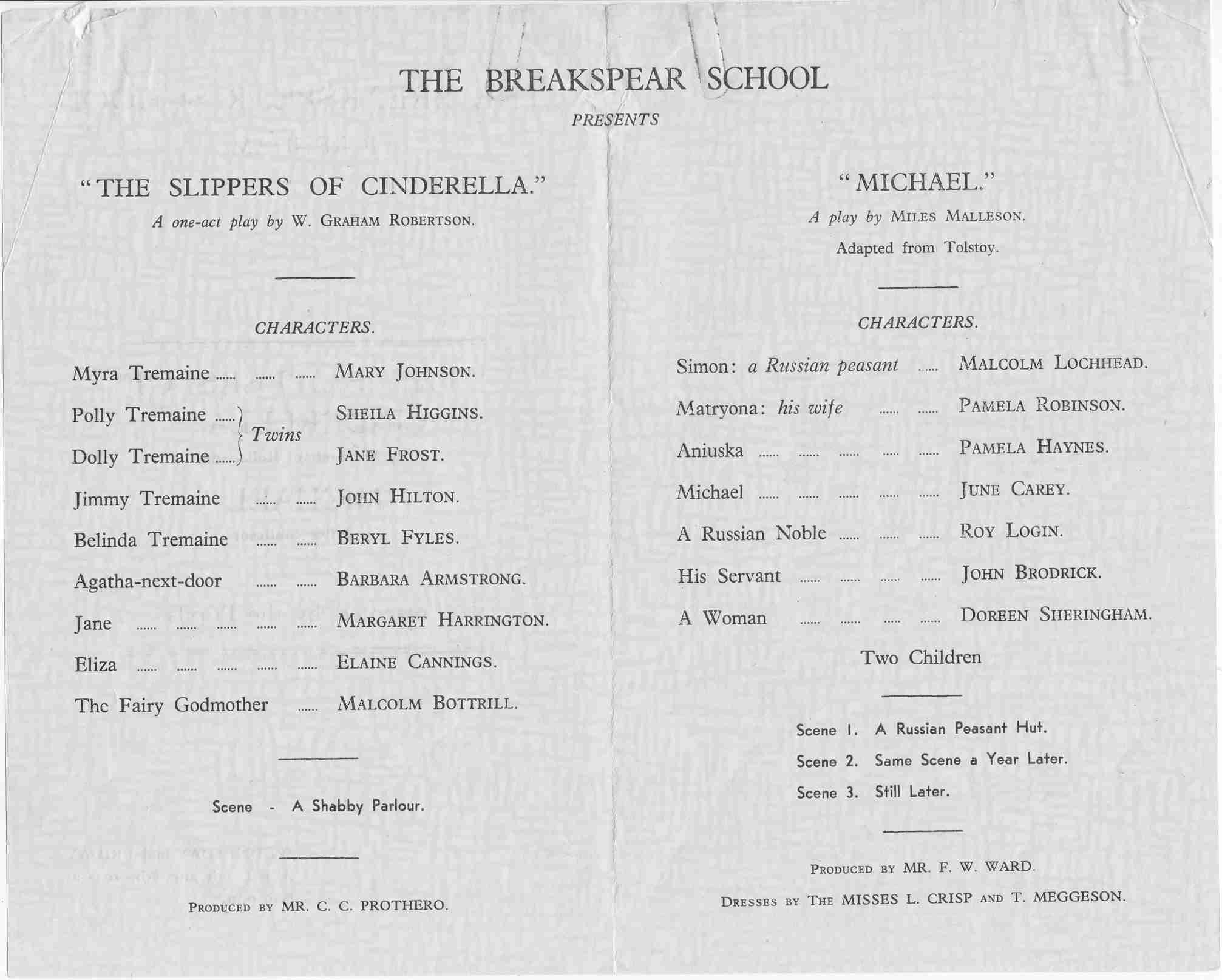 Click here to hear Mr. Ward reciting a short extract from 'Temper in October' ca. 1960 (mp3 format)
He was as just as appreciative of music, and was even known to play the piano for assembly occasionally. He fostered such innovations as the violinda classes, taken by J. Hullah Brown who invented the instrument, and extensive visits from professional musicians. The school choir, conducted for many years by Mrs. Scott was very successful and joined the mass singing festivals in the area, and recorder groups were also popular. Mrs. Scott also directed some ambitious musical productions, for example an operetta The Stranger based on Schumann's Album for the Young, with Mr. Ward setting up the back-stage technology. Experimenting with electrical engineering was one of his passions.
He was very keen that the school should excel at all kinds of sports, in rounders, netball, football and swimming, as well as athletics, and he usually played an important role in organising Sports Day.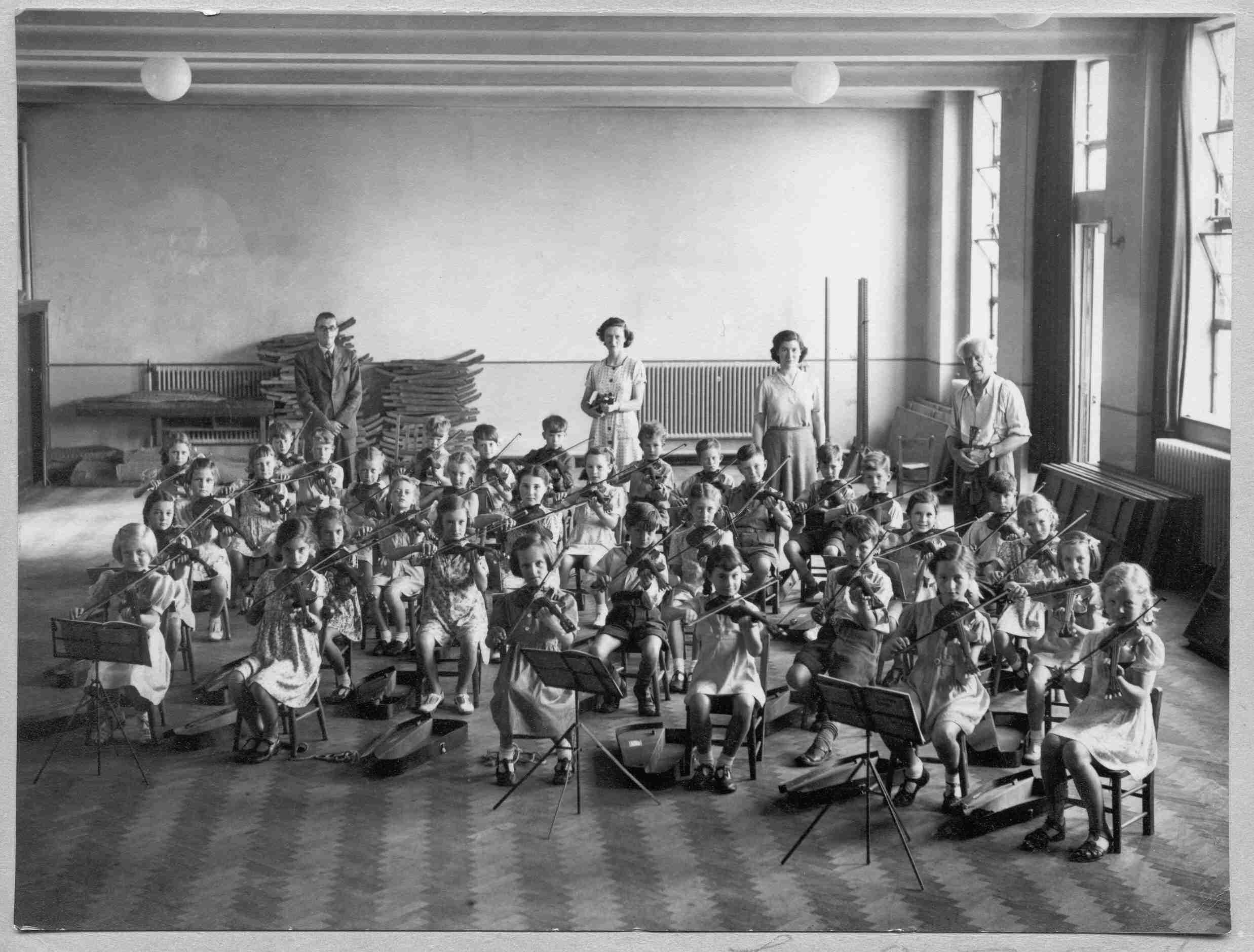 Violinda Group - 1947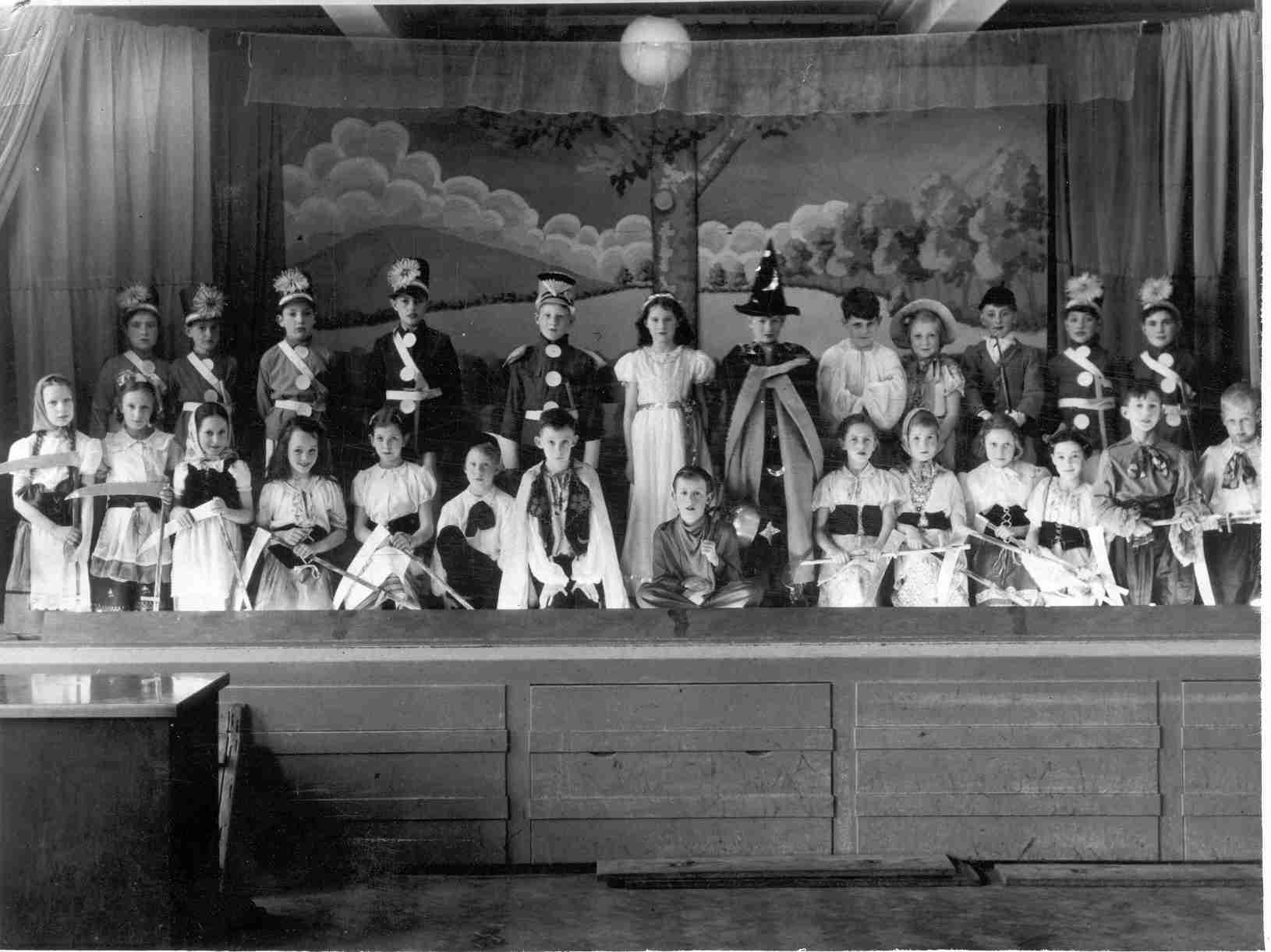 The Stranger - 1952
Other innovations included teacher exchanges with the United States but these had their pitfalls. He was to lose a valued member of staff in one such exchange: Winnie Gould exchanged with Ruth Lupton from Schenectady, and later returned there to marry.
Under Jim Ward's guidance and encouragement, the school settled down as a happy, lively, thriving community. He offered a wide range of skills, practical, organisational, academic and artistic. He was as much at home giving first-aid to a damaged child, fixing an amplifier, or coaching an athletics team as stimulating academic excellence and raising the school's profile among inspectors and executives. He was admired and respected by the children, and returned that respect, insisting on a sense of justice and fair play among the school's members, and a commitment to 'the good of the school'. When illness forced him to retire a year early, he received a great box of tributes from the pupils. One former student, looking back to the early days commented on 'the wise and able leadership of Mr. Ward', and the 'happy family atmosphere of the school'.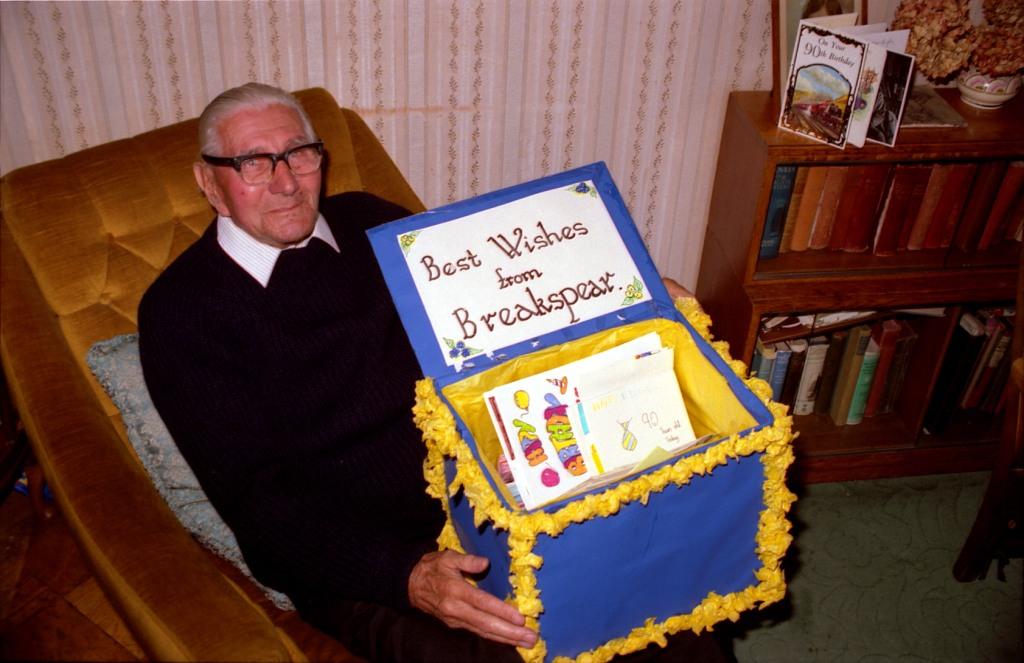 Mr. Ward's 90th birthday - 25 February 1988