Mrs Fielding's Class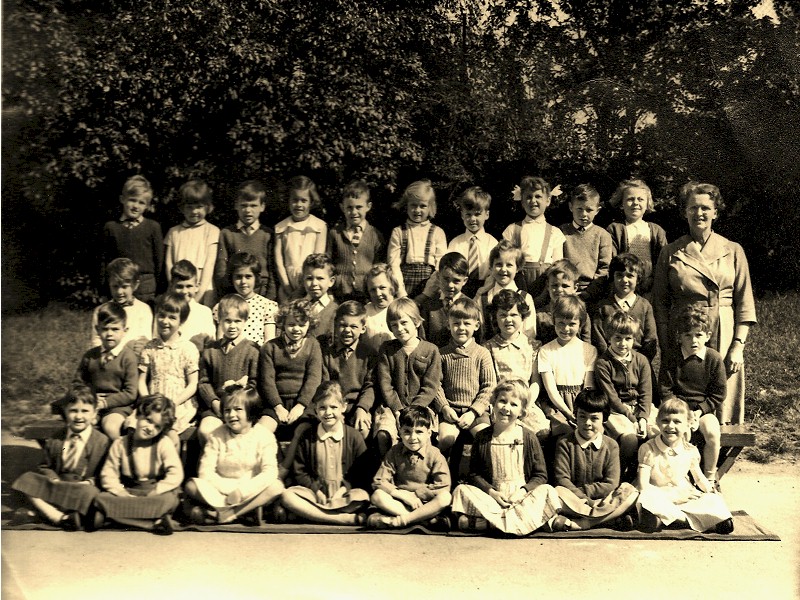 This is a first year Infant (Year 1) class. Although he does not appear on this photograph, this was Mr. Ettling's first year as headteacher. The School Log Book identifies that the picture was taken on Friday 1 June. It would appear that parents could purchase a copy of the photograph (size 81/2 inches by 61/2 inches) for 3/- (three shillings).

Photo top row (left to right):
David Mason, Anne Lee (?), Stephen Webb, ? , David Greenfield, ?, John Pretty, Susan Elliot, ?, Elaine Bloyce, Mrs Fielding.
Second Row (left to right):
Susan Timms, Roger Stephens, (Jennifer ? ), ?, Lindsay Wright, Michael Volks, Caroline Bell.
Third Row (left to right):
Nicholas Quilter, Jaqueline Gibbons, Charles Ainsworth, Jaqueline Dean, Graham Tarling, Jean Morris, ?, ?, Lawrence Betts.
Bottom Row (left to right)
Alexandra Praille, ?, Ingrid Shannon, Phillippa Stocks, Nigel Doxford,
Diane ?, ?, ?
Our thanks to Stephen Webb who supplied both the photograph and the names.