The Ickenham Tapestry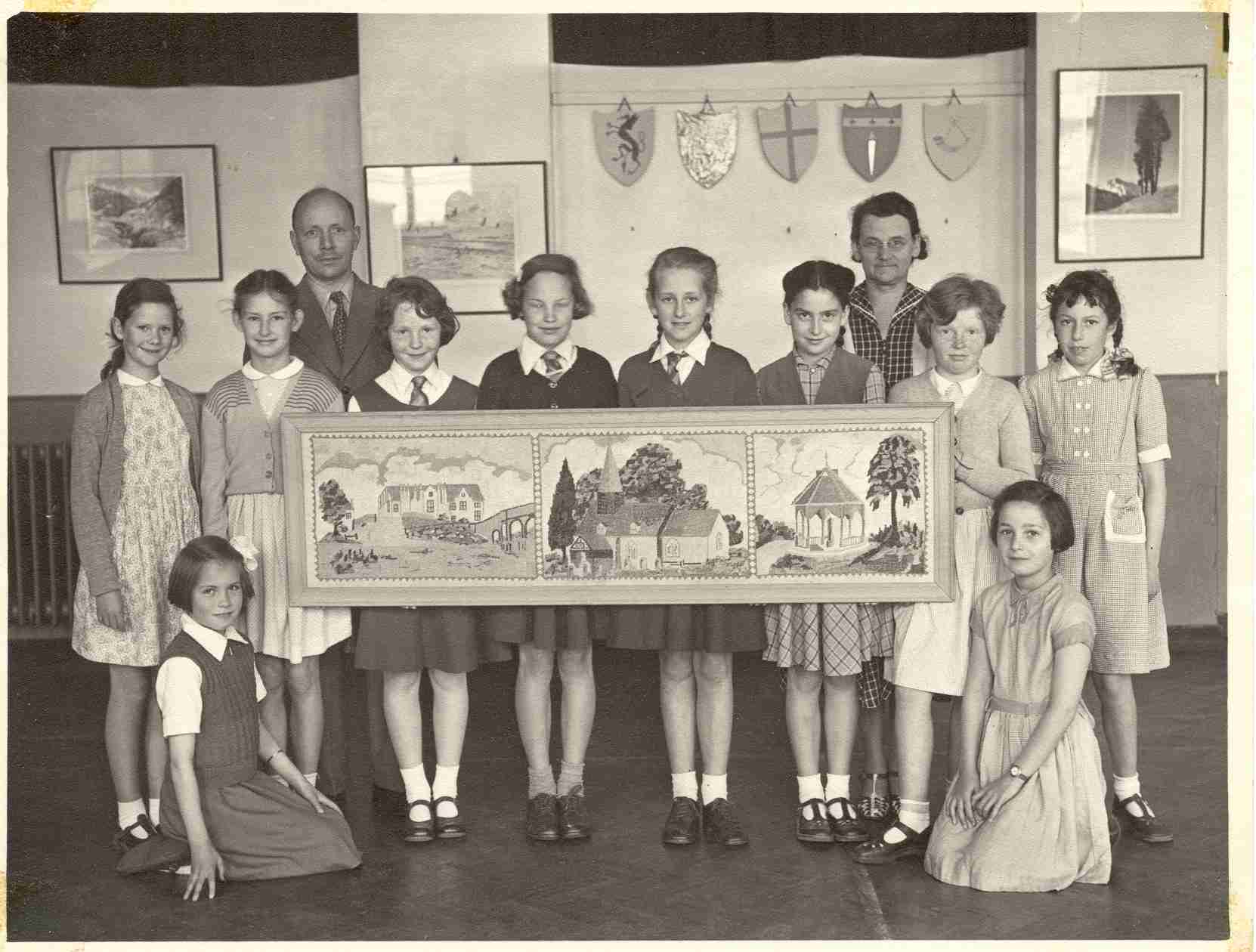 Mrs Scott and the girls responsible for the tapestry made in 1954 representing buildings in Ickenham as they would have appeared in the eighteenth century. This tapestry now hangs on the staircase to the upper hall. The Gazette of Friday 31 July 1953 contained a picture of the tapestry with the following caption:-

Breakspear School girls with the tapestry of local 18th Century views which they made in their spare time at school. In the centre of the group is Mrs. V. G. Scott, needlework and music teacher.
This was followed by the following report:-
Breakspear girls work tapestry of the 18th century
When the summer term ended on Friday girls of Breakspear School, Ickenham, were busily putting the finishing touches to a tapestry depicting three local buildings as they would have been in the 18th Century.
They started it early this year after the success of the Bayeaux tapestry replica which last year aroused so much interest both in and out of the school. They hoped to finish it by the end of last term but a few small details will have to be added at the beginning of autumn term.
The new tapestry, about six feet long by 18 inches deep, is divided into three panels showing St. Giles Church, Ickenham, the Village Pump, and the Crown and Treaty House, Uxbridge.
Mrs. V. G. Scott, needlework and music teacher at the school, told a reporter: "We thought we would do a tapestry using a different stictch from the one we used last time. It is much smaller than the first, but very detailed and on fine canvas worked in silk instead of wool.
32 GIRLS HELPED
The design of the Treaty House was taken from an old print in a book at Uxbridge Library and the other two buildings were designed using imagination and sketchings made by Mrs. Scott from the buildings as they are now.
Girls of the top two classes have been working on the tapestry and by the time it is finished 32 girls will have helped in its production.
And when this one is finished? "There is already talk of another tapestry depicting school life, with figures designed by the children," said Mrs. Scott.